Welcome to 13th ICCCP !
Chemical engineering is a multidisciplinary branch of applied engineering consisting of the application of physical science (Chemistry & Physics), life sciences including biochemistry with applied mathematics and economics to produce transform and use of chemicals, molecules materials, energy to make the whole production process successful with economic benefits. Basically it is the applied engineering dealing with the production process of chemical and biochemical products including design of process, plant, raw material processing, products formation, optimization, operation.
2024 13th International Conference on Chemistry and Chemical Process aims to foster and conduct collaborative interdisciplinary research in state-of-the-art methodologies and technologies within Chemistry, Chemical Engineering and Chemical Process. The meeting aims to attract participants with different backgrounds, to foster cross-pollination between different research fields, and to expose and discuss innovative theories, frameworks, methodologies, tools, and applications.
ICCCP Conference Committee
Tokyo, Japan
February 26-29, 2024
Publication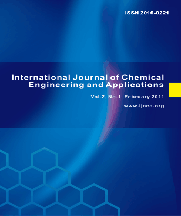 After a careful reviewing process, accepted papers after proper registration and presentation, will be published into International Journal of Chemical Engineering and Applications (IJCEA) ISSN: 2010-0221 (Print). Abstracting/ Indexing: Chemical Abstracts Services (CAS), Ulrich's Periodicals Directory, CABI, Electronic Journals Library, Google Scholar, ProQuest, Crossref, EBSCO, CNKI.